Dual Distributor Holddowns
Sometimes the standard single distributor

holddown is difficult to access. So PP have provided dual distributor holddowns on all Power+Plus Chevy intake manifolds, which gives you an optional position. And on our 52030 and 52031 Racing Manifold, you can use two holddowns for extra protection against distributor rotation.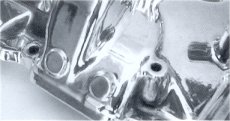 Nitrous Bosses
If you want to run nitrous with the injectors mounted directly in the ports, Power+Plus Manifolds provide a simple solution. Many of the manifolds include cast-in nitrous bosses which provide the extra thickness not found in most competitive manifolds without spending a lot more money. This extra thickness is necessary to provide the proper amount of thread engagement All you have to do is drill and tap the bosses to accept any manufacturer's nitrous injectors.
Water Divider Baffle
The Power+Plus #52030152031 Manifold is designed for both racing and street applications.

It has all the necessary bosses and tapped holes to accommodate street accessories yet it also includes every feature found in manifolds costing hundreds more. One trick feature is the Water Divider Baffle. Expensive race manifolds have this baffle cast in place in the manifold but this precludes the use of a thermostat if you want to use one. The Power+Plus Manifold is machined for a thermostat but the package also includes a drop-in Water Divider Baffle for those who desire this feature.

Carburetor Adapter Plate

Many Chevy manifolds accept the stock Rochester Quadra-Jet spread-bore carb. But if you want to use one of the popular Holley or Edelbrock square bore carbs, you have to spend more bucks for a carb adapter plate. Power+Plus manifolds with spread- bore patterns include steel adapter plates and gaskets to accept square bore carbs. Included with manifold.
Four Corner Water Ports
All of our performance manifolds feature two extra water ports at the rear of the manifold, a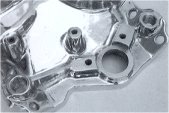 feature normally only found in manifolds costing hundreds more. Some enthusiasts have found that plumbing a line between these two rear ports can reduce engine over- heating. Many racers also find these ports to be an advantageous special feature for plumbing special additional water lines.
Special Manifold Adapters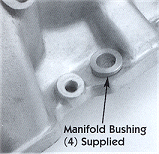 All Power+Plus Street and High Performance Street Manifolds for small block Chevys come with special adapters that allow these manifolds to fit the '87-'95 cast iron heads. If you have '86 or earlier heads, or '87-'95 aluminum heads, PP manifolds bolt right on without the adapters. For '87-'95 cast iron heads, drop the adapters in the four slotted holes and bolt up the manifold with no fuss and no special tools required.