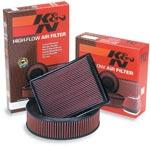 High Air Flow with Excellent Filtration
Designed to Increase Horsepower and Acceleration
Washable and Reusable
Will NOT Void Vehicle Warranty
Lasts up to 50,000 miles before cleaning is required depending on driving conditions
10 Year / Million Mile Limited Warranty

Emissions Legal in all 50 US States.
Economical, a K&N Air Filter Will Last the Life of Your Vehicle
Works with Original Equipment Manufacturer Vehicle Electronics
Environmentally Friendly, K&N Reusable Air Filters Reduce the Volume of Disposable Air Filters that end up in the Nation's Landfills
K&N Take Air Filters Seriously - For over 30 years they've manufactured serious air filters completely unlike traditional disposable filters. Our air filter is designed to achieve high, virtually unrestricted air flow while maintaining filtration levels critical to ensure long engine life. The secret to their success lies in the unique characteristics of their filter medium that was originally developed by K&N all those years ago in the dust, sweat and tears of desert motocross racing. They just wanted to win races and stumbled on a cotton filtration technology destined to be great. Their high flow cotton gauze air filter is washable, reusable and built to last for the life of an engine. The filters consist of four to six sheets of cotton gauze layered between two sheets of aluminum wire mesh. This media is then pleated and oiled to enhance its filtering capabilities and overall performance. The result is an air filter that allows dramatically more air into an engine, is washable and reusable, and will protect your engine for the life of your vehicle.
K&N Air Filters are made to factory dimensions so they fit into the standard airbox yet they feature the superior performance and design that made K&N famous. Power gains are usually achieved by installing a K&N air filter. Listed below are just some of the vehicle applications catered for by K&N. K&N Replacement filters are also available for most Japanese, Korean and European vehicles, contact us for further details.
CHEVROLET
| | | |
| --- | --- | --- |
| Model | Year | Product ID |
CHEVROLET
AUSTRALIAN ASSEMBLED MODELS

 

W/327 V8
68-74
KNE-1500
BLAZER FULL SIZE
V8 4bbl
75-95
KNE-1500
250 L6 1bbl
69-78
KNE-1070
V8 2bbl
69-78
KNE-1450
BLAZER S10
2.2L L4 EFI, 4.3L V6 CPI/VORTEC
92-98
KN33-2042
CAMARO
3.8L V6 / 5.7L V8
98-99
KN33-2118
3.4/3.8L V6 EFI, 5.7L V8 EFI
93-97
KN33-2042
3.1L V6 EFI
90-92
KNE-0890
CHEVROLET Cont.
CAMARO Cont.
5.0L V8 TBI
88-92
KNE-1450
2.8L V6 EFI, 5.0/5.7L V8 EFI **
85-92
KN33-2008**
2.5L L4 EFI
82-86
KNE-1015
V6 2bbl
80-81
KNE-1450
Z28
71-74
KNE-1650
V8 4bbl Exc Z28
70-87
KNE-1450
350 V8 2bbl
70
KNE-1500
V8 2bbl
69-78
KNE-1450
V8 2bbl
67-69
KNE-1070
V8 305-350 4bbl
68-81
KNE-1500
CHEVELLE
6cyl & SOME V8
64-74
KNE-1070
SOME W/V8
64-74
KNE-1650
CHEVY II
4 & 6 cyl
62-70
KNE-1070
SOME W/ V8
64-70
KNE-1070
SOME W/ V8
64-70
KNE-1650
CORVETTE
5.7L V8 EFI
97-99
KN33-2111
5.7L V8 EFI
90-96
KN33-2035
5.7L V8 TPI
85-89
KN33-2014
V8 4bbl
74-81
KNE-1500
V8 4bbl
70-73
KNE-1450
V8 4bbl
67-70
KNE-1650
LUV Utility
L4 O.H.C
7/75-78
KNE-2760
<![if supportMisalignedColumns]> <![endif]>
CHRYSLER
| | | |
| --- | --- | --- |
| Model | Year | Product ID |
| | | |
| --- | --- | --- |
| CHRYSLER | | |
| CHEROKEE | | |
| See Jeep listing | | |
| NEON | | |
| 2.0L L4 EFI | 96-00 | KN33-2087 |
| PT CRUISER | | |
| V6 | 00-on | KN33-2153 |
| VALIANT VC-VF | | |
| V8 | 65-70 | KNE-1100 |
| VOYAGER | | |
| 3.0L V6 | 96-00 | KN33-2087 |
DODGE
| | | |
| --- | --- | --- |
| Model | Year | Product ID |
| | | |
| --- | --- | --- |
| DODGE | | |
| VIPER | | |
| V10 8.0L EFI ** | 92-99 | KN33-2085** |
| PHEONIX | | |
| 360 V8 | 60-68 | KNE-1100 |
FORD
| | | |
| --- | --- | --- |
| Model | Year | Product ID |
FORD
CAPRI

 

1.6L EFI & TURBO
89-95
KN33-2027
CORSAIR

 

2.0/2.4L UA
89-92
KN33-2031-2
FAIRLANE
6cyl Exc 250
66-70
KNE-1080
6cyl without EFI
3/82-86
KNE-2855

 

V8 351 Auto
66-74
KNE-1570
V8 302/351
66-83
KNE-1570
NA, NC 6cyl EFI
7/91-3/95
KN33-2708
NF, NL, AU 6cyl EFI
3/95-00
KN33-2015
NC, NF, NL, AU V8
6/91-00
KN33-2015
FALCON, FAIRMONT, FUTURA
XL, XM, XP, XR, XT, XW & Some XY W/ 6cyl
62-70
KNE-1080
XE, XF 6cyl Carb
3/82-86
KNE-2855
XR-XB 351 V8 AUTO
66-74
KNE-1570
XB-XE V8 302/351
12/74-81
KNE-1570
EA 6cyl TBI
88-91
KNE-2855
EA-ED 6cyl MPI
88-8/94
KN33-2708
EF-AU 6cyl
8/94-00
KN33-2015
EB-AU V8
91-00
KN33-2015
FESTIVA

 

WA 1.3L Carb
10/91-3/94
KNE-9181
LASER
KC-KE 1.6L EFI Inc TX3 & TURBO
10/85-87
KN33-2027
KC-KE 1.6L Carb
10/85-90
KNE-1360
KF-KH 1.6L Carb
3/90-95
KNE-9194
KF-KH 1.8L EFI Inc TX3
3/90-95
KN33-2034
KJ, KJ2, KJ3, KN 1.6/1.8L EFI
10/94-00
KN33-2134
LTD
6cyl carb
3/82-2/83
KNE-2855
6cyl EFI
88-2/95
KN33-2708
6cyl EFI
3/95-00
KN33-2015
V8
73-83
KNE-1570
V8
6/91-00
KN33-2015
MONDEO
HA 2.0L
95-on
KN33-2674
MUSTANG
V8 5.0L EFI
86-93
KN33-2015
L4 2.3L 1 & 2bbl Exc Turbo
81-86
KNE-1200
L4 230ci 2bbl
74-79
KNE-1200
Most V8 2 & 4bbl
68-72
KNE-1570
FORD Cont.
PROBE
L4 2.0L, V6 2.5L
93-97
KN33-2049
L4 2.2L, V6 3.0L Exc Cruise Control
89-92
KN33-2026
SIERRA
2.0L Inj (Cosworth)
92-on
KN33-2532
TAURUS
V6 3.0L
96-99
KN33-2107
TELSTAR
2.0L carb
83-87
KNE-2790
2.2L & TURBO
10/87-1/92
KN33-2026
2.0L EFI & 2.5L V6
1/92-96
KN33-2676
FORD Commercials
COURIER
1.8/2.0/2.2L PETROL
78-92
KNE-2790
2.2L DIESEL
81-2/85
KNE-2536
EXPLORER
4.0L V6 (flat filter)
96-99
KN33-2106
F-SERIES & BRONCO
6cyl 250 (4.1)
3/82-85
KNE-2855
6cyl 300 4WD
74-77
KNE-1200
5.0L V8
85-86
KN33-2012
V8 302-351
74-84
KNE-1570
6cyl 300,V8 5.0/5.8/7.5L
5/87-96
KN33-2023
7.3L Diesel Navastar
95-98
KNE-1946
FALCON
UTE, VAN XG-XH 6cyl MPFI exc XR6
3/93-6/99
KN33-2708
UTE, VAN XG-XH XR6
4/96-6/99
KN33-2015
UTE AU
7/99-00
KN33-2015
MAVERICK
4.2L DIESEL (OUTER)
8/89-9/93
KN38-9168
4.2L DIESEL (INNER)
8/89-9/93
KNE-9201
4.2L PETROL
88-9/93
KNE-9201
<![if supportMisalignedColumns]> <![endif]>
HOLDEN
| | | |
| --- | --- | --- |
| Model | Year | Product ID |
HOLDEN
APOLLO
JK, JL 2.0L EFI
89-93
KN33-2533
JM, JP 2.2L EFI
93-97
KN33-2052
JM, JP 3.0L V6
93-97
KN33-2052
ASTRA

 

LD 1.8L EFI
7/87-89
KN33-2010
TR 1.6/1.8/2.0L EFI
9/96-9/98
KN33-2097
TS 1.8L EFI
9/98-00
KN33-2787
BARINA
MB, ML
85-89
KNE-2734
MF, MH 1.3L
89-94
KNE-9209
SB 1.2/1.4/1.6L EFI
4/94-00
KN33-2098
CALIBRA
2.0L 4cyl SOHC
10/91-95
KN33-2080
COMBO VAN

 

1.4L EFI
3/96-00
KN33-2098
COMMODORE
VC-VH 4cyl
80-83
KNE-3492
VB-VK 6cyl carb
78-86
KNE-3492
VK 6cyl EFI
3/84-86
KN33-2512
VB-VL V8 carb
78-88
KNE-1210
HOLDEN Cont.
COMMODORE Cont.
VL 6cyl EFI
86-88
KN33-2031-2
VL GROUP A V8 EFI
88
KN33-2512
VN-VS V6/V8
88-00
KN33-2031-2
VT, VTII, VX V6/V8
97-00
KN33-2116
DROVER
85-87
KNE-2553
EH-WB

 

6cyl
63-84
KNE-3492
FRONTERA MX 4WD
2.2L 4cyl EFI
2/99-00
KN33-2064
3.2L V6 EFI
3/99-00
KN33-2064
GEMINI

 

TX-TG
75-85
KNE-2760
HK
V8 307
68-69
KNE-1070
HK-HQ

 

V8 327/350
68-74
KNE-1450
HT-WB

 

V8 253/308
69-84
KNE-1210
JACKAROO
DIESEL & TURBO
88-6/89
KNE-2220
PETROL 2.0/2.3L
82-88
KNE-2760
PETROL

 

88-11/93
KNE-2605-1
PETROL 3.2L V6 EFI
92-2/98
KN33-2064
PETROL 3.5L V6 EFI
2/98-00
KN33-2064
NOVA
LE, LF 1.4/1.6L carb
89-10/94
KNE-9107
LF 1.6/1.8L EFI
9/91-10/94
KN33-2041
LG 1.6/1.8L EFI
10/94-97
KN33-2672
RODEO
DIESEL
81-88
KNE-2760
PETROL 2.0/2.3L
81-87
KNE-2760
TF 2.3L
5/90-3/93
KNE-2605-1
2.2L
6/98-00
KN33-2108
2.6L
88-6/98
KNE-2605-1
2.8L TURBO DIESEL
90-00
KNE-2345
3.2L V6 EFI
2/98-00
KN33-2108
SHUTTLE

 

PETROL
82-91
KNE-2417
STATESMAN
VQ-VS V6/V8
90-6/99
KN33-2031-2
WH V6/V8
6/99-00
KN33-2116
SUBURBAN
5.7L V8 EFI, 6.5L V8 TURBO DIESEL
98-00
KNE-1796
TORANA, SUNBIRD
4cyl LC-TA 1600/1760cc
71-75
KNE-3492
LH-UC 4cyl 1900
74-80
KNE-3492
6cyl LC-UC except GTR-XU1
69-79
KNE-3492
V8 253/308 LH-LX
74-78
KNE-1210
VECTRA
2.0/2.2L EFI
97-00
KN33-2750
<![if supportMisalignedColumns]> <![endif]>
JEEP
| | | |
| --- | --- | --- |
| Model | Year | Product ID |
JEEP
CHEROKEE
V8 Most 2bbl & 4bbl
74-86
KNE-1100
L4 2.5L, L6 4.0L EFI Exc GRAND
87-00
KN33-2018
CJ5, CJ6, CJ7, CJ8
CJ5, CJ6

 

6cyl 232/258
70-77
KNE-1080
V8 Most 2bbl & 4bbl
71-80
KNE-1100
4cyl Diesel
81-82
KNE-1080
JEEP Cont.
COMANCHE
L4 2.5L, 1bbl & 2bbl
86-88
KNE-1200
L4 2.5L, L6 4.0L EFI
87-92
KN33-2018
GRAND CHEROKEE
L6 4.0L, V8 5.2L EFI
93-00
KN33-2048
SCRAMBLER
V8 Most 2bbl & 4bbl
71-80
KNE-1100
WAGONEER
V8 Most 2bbl & 4bbl
70-91
KNE-1100
L4 2.5L 1bbl & Inj
84-88
KNE-1200
L4 2.5L, L6 4.0L EFI
87-90
KN33-2018
WRANGLER TJ
L6 4.0L EFI
97-on
KN33-2114
<![if supportMisalignedColumns]> <![endif]>